NEW RELEASE:
2014 Hoot Owl Creek Cabernet Sauvignon

Gold Medal
~2019 San Francisco Chronicle Wine Competition

Double Gold Medal
~Sonoma County Harvest Fair

91 Points
~Robert Parker
Our 2014 Cabernet Sauvignon was grown on the Hoot Owl Creek Ranch in southern Alexander Valley. This vineyard was planted by Clay Green with Clone 337 on 110R rootstock.  With an elevation about 700 feet above the valley floor with a southwest facing slope, this soil is gravelly shale in red volcanic soil.
Harvest info:
October 10, 2014
Harvested 5.27 tons
26.8 brix
3.71 pH, 0.41 TA, 1.1 Malic YAN, 120Aged in 50% new Remond Ailliers and Center barrels for 18 months
 Finished wine info, bottled through 0.45 at Laird April 21, 2016. 306 cases produced
Final  Alc 15.25%, pH 3.61, TA 0.67, VA 0.068, GF 1.21 g/L, MA 0.09
Weather and growing season: 2014 overall was a nice warm year, but the third year of the drought. Low-average harvest.
 Winemaking:
4 days cold soak, then warmed and inoculated with VQ51 yeast – 19 days on skins, pressed at dryness and put to bbl after inoculation with ML 1Step. Finished ML early in January, 2015. Racked 2 times during aging.
Tasting notes:
A stunning deep garnet color with perfect clarity, this wine entices at first peek. On the nose, dark berry with undertones of eucalyptus, cedar, honey and leather waft up, then opens to woodsy and earthy notes, enhancing the berry and leather components. On the palate, the slightly smoky leather and traditional black currant flavors are complimented by light licorice and dark cocoa notes. Offering a gorgeous texture with great tannin structure, this wine in firm in acidity without being overwhelming. Drink now through 2022. Pair with a traditional steak au poivre with pepper cream sauce, or perfectly grilled tri-tip with roasted rosemary potatoes.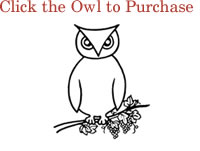 2012 Hoot Owl Creek Cabernet Sauvignon

Our 2012 Cabernet Sauvignon was grown on the Hoot Owl Creek Ranch in southern Alexander Valley. Clone 337 on 110R, planted in 2001 by Clay Green.
Elevation is about 700 ft above the valley floor, with a southwest facing slope.
Soil composition: Gravelly shale in red volcanic soil
Harvest information:
October 29, 2012
Harvested 6.0195 tons + 0.56 tons new Malbec block
23 brix
3.80 pH, 0.35 TA, 1.4 Malic
Finished wine information: Bottled March 26, 2014. 379 cases produced
Alcohol 14.3%
3.77 pH, 0.65 TA
Weather and growing season
2012 overall was a wonderful growing year, with bud break at 50% on April 17th, and bloom at 50% on May 26th. Veraison was at 50% on Aug 5th (thanks to a few 100* days), and we did a green drop to even things up a bit. By September 17th, the brix level was at 19.5*, with flavors in the lemongrass area – not herbaceous. A hot spell arrived in late September, and a few leaves were crisped but no shrivel or sunburn on the fruit was seen.  We had 23* brix on October 3rd, with the color deepening rapidly, and berries giving off aromatics of some lovely spices. By October 10th we found the leaves going red and yellow for a foot above the cordon wire, and the Brix holding at 22.6*.  The field test yielded color to purple after an hour with smells giving off a sweet and slightly leafy fragrance. We saw some rain, about 1.2" over October 22nd to October 25th, which brought the brix down a bit.  Seeing more rain predicted for October 31st, so after a few warm clear days, we brought the grapes in on October 29th.
We crushed on October 29th, and I inoculated the next day with CSM yeast made up in Go Ferm, which is a natural yeast rehydration nutrient, con­taining a balance of micronutrients. We did pump- overs by hand two times, then went to twice a day with the sprinkler device. On November 2nd, we warmed tank to 86*F to get some nice early extraction. On November 9th, I did a drain and return, with press happening on November 16th.  We racked the wine into two Radoux Appalachian oak barrels, two Remond A MTL+, two Remond C MTL+, and eleven neutral barrels. Racked off ML in Jan, 2013, then racked again in July. Rack and Riddle bought the facility in October, and warned us that the bottling line would be moved out in April, 2014. In March 2014, the 15 barrels were racked to tank for bottling. March 26, the wine was cross flowed, and sterile bottled 3/27/14. 379 cases produced
Tasting notes (tasted 2/12/16)
Mocha and blackberry aromas emerge first, with a darker cassis quality following on the heels. The palate is still young and bouncy, with deep black cherry and cassis flavors swirling around a core of ripe tannins and nice acidity. The finish tapers off with ripe blackberry and toasty caramel. 
---


2011 Owl's Wing Cabernet Sauvignon

This 2011 Cabernet Sauvignon is grown from Clone 337 on 110R Elevation, at about 700 feet above the valley floor, with a southwest facing slope. Gravelly shale in red volcanic soil.



Winemaking
After the grapes arrived we crushed them with American Oak toasted powder and Ferm color to reduce laccase and grassy notes. The next day, the must was inoculated with VQ51, and the top smelled pretty good, By the next day, the color looked very nice, so we warmed it up and started fermentation. Pumpovers were gentle, mostly by sprinkler, two times a day for a week and then one time a day for another week. The temperature never really reached more than 80o in the little opentop tank, but it finished up fermentation nicely and went right to barrel dry. The wine was pressed and put to barrel (30% new Remond Aillier barrels, 20% new Radoux Appalachian) to go through Malo-lactic fermentation. Then it was racked and put back to barrel. It was racked 3 more times during its aging period, then bottled May 31, 2013, 210cs.

Tasting notes
This young wine's nose is reliably fruity, displaying light berry and some cherry notes, all with the toasty oak spice component supporting the fruit. The palate is mid-weight with surprising strength in the center, giving a strong character to this balanced, easy-drinking Alexander Valley Cabernet.

---

2010 Hoot Owl Creek Vineyards Cabernet Sauvignon

Winemaking
The grapes were crushed into a closed top tank with 50 ppm SO2. A five day soak at 60*F was followed by inoculation with Pasteur Red yeast and warming to 80*F (took 4 days to get up to temp). Fermentation took off, finally reaching 90*F. Pump-overs were gentle, mostly by sprinkler, two times a day for a week, and then one time a day for another week. The wine was pressed after 18 days on the skins, and then went to barrel. We used 4 new Rem A MTL+ and 2 new Radoux Appalachian barrels or 43% new oak. The wine was racked in May, 2011, and again in March, 2012. The Cabernet was bottled 5/31/12 after one light filtration.
Tasting notes
Deep plum and black licorice notes roll into black cherry and toasty allspice in the aromas. The palate is ripe and gentle with immediate fresh black cherry and blueberry flavors. A surprisingly graceful and persistent finish pushes the savory fruit and acidity all the way to the end.
.