wINEGROWER - Clay Wallace Green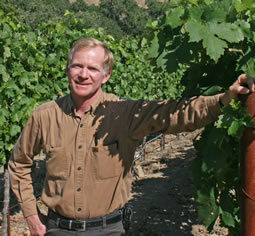 Born in Southern California in Long Beach at Memorial Hospital, Clay always had a thing for dirt. Starting at about age 8 Clay and a neighboring kid mowed hillside fields for income with the parental high weed mower. It took two kids to run the mower because it was so big. A couple of years later Clay graduated to his grandfather's Cletrac HG tractor and disc. This led to a lifelong love for tractors.

In the 5th & 6th grades, Clay ran a tractor pulling a harvest gondola during the Chardonnay and Pinot Noir harvest and counted picker's buckets. After 6th grade the Green's moved full time to Healdsburg which meant there was always a job to do in the vineyard.

Clay went on to UC Davis earning an Ag Econ degree with a viticulture minor in 1982. Since Hoot Owl Vineyards was already well managed, he started an earthmoving company Cats 4U with principally vineyard clients. When the vineyard planting slowed in 2000, they diversified to working on custom home sites, wetlands, sewer and water plants, etc.

In 1996, Clay realized there was both fallow and undeveloped hill land perfect for earthmoving work. By 2000, he finished developing and planting the last of the Cabernet Sauvignon vineyards you are enjoying today in our wine.

Locally, Clay serves as president of the Alexander Valley Community Hall and prior the Alexander Valley Association. He is presently on the North Coast Builders Exchange board. In 2004, he won the first "Mr. Healdsburg" contest, a tongue and cheek fundraiser with his rendition of "King of the Road".