wINEMAKER - ALISON gREEN DORAN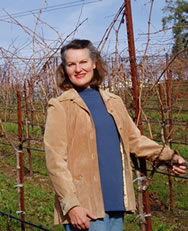 I started at UC Davis in Animal Science - I wanted any kind of science, just to get the prerequistes started, but in 1973, my Dad brought to Simi, Mary Ann Graff, the first woman winemaker anywhere to be hired from outside a family. With her, he brought in as consultant, the great Andre Tchellistcheff. This five foot two inch white Russian with the thick accent, shrewd eyes and a searching mind had been the winemaker at Beaulieu Vineyards for 35 years. He told me to take a quarter off from University and to learn some winemaking from him. It was quite the formative experience, and I never looked back. I changed my major at Davis to Fermentation Science, received some crush experience in Alsace, and some more in Paso Robles, finally finished my BS, and took a job at The Firestone Vineyard down in Santa Barbara County.

After becoming winemaker there in 1981, the fourth woman winemaker ever, I think, I stayed on, playing polo and singing in the church choir, for another 20 years. In 1994, I married my cellar master - now there is another story! And in 2000, with 2 little boys, we moved up to the family ranch in Alexander Valley. I am now a winemaking consultant, with six clients in Napa. We have started our own family label called Hoot Owl Creek Vineyards, and we are looking forward warily to the challenges of selling our wine.